Introduction
RMA for Magento 2 is one of the must-have tools to manage product returns and provide a user-friendly return policy to your customers. With RMA for Magento 2 plugin, customers can request for the product return and refund if he/she is not satisfied with the purchased product.
MageAnts Magento 2 RMA offers flexibility to Magento 2 store owners to manage returns requested by customers and allow customers to create multiple RMA requests along with the return reason.
Why Do You Need Magento 2 RMA extension?
According to recent statistics, more than 80% of online customers pay attention to return and refund policy while purchasing from online store owners. As a store, you might know that to encourage the customer to make an online purchase in your store you have to provide them with an easy and clear return process. Otherwise, it might be possible that customers become suspicious and irritated to place an order looking at the return policy.
So you have to build a return policy that meets the customer and merchant's needs both! Manage RMA requests of your store easily and allow your customers to place a return request anytime using MageAnts Magento 2 RMA extension. This module not only is beneficial to you but also helps your customers to create and control the exchanges or returns of their purchased products.
Additionally, Magento 2 Return Management Extension also speeds up the process of return requests, improves customer retention and brand loyalty.
1)   The Customer will Make a Return Request
If the customer not satisfied with the purchased product, they can initiate an RMA request. Some of the store owners manage this return process using customer contact and support via email and phone. But to eliminate this process, use Magento 2 RMA module which automates the return process and allows your customers to make a product return request online.
Additionally, the customer must specify the reason for return which can be anything like a defective piece, broken unit, wrong size, color, etc. Along with this, customers should add their explanation of returning an order by adding their own text in the additional comment section.
2)   Store Owner Approves the RMA Request
Some of the store owners accept all the return requests while others have some criteria which must met to return the purchased product. So once customers initiate a return request, store owners will check them and need to approve it first either manually or through their automated process. Once return requests get accepted, store owners need to guide their customers with the steps on how to return the product back to stores.
Few store owners provide free shipping on product returns while others ask to return on their own pay. There will be specific RMA numbers on the shipping label to match the product with the customer's account.
3)   Product Received by Store Owner
When the returned product gets delivered from the customer end, it's the responsibility of the store owners to make sure that the product is received. And a perfect RMA process must be able to connect that the returned product has an RMA number so if in case a customer sends the wrong product then the admin can notify their customers about the same and close the return request.
4)   Product Inspection Process
Once the product return gets checked that it's matched to the RMA number, then the next store owner will perform the product inspection where there will be a checklist to inspect the returned product. This checklist inspection will help store owners to know where the improvement requires and this will lead to reducing the number of product returns.
5)   Return/Refund Settlement Process
Last but the least, the store owner will send the exchange, refund, or repairment to the customers and try to close the return request quickly. This helps in retaining the customer's loyalty. In addition to this, the admin also tries to update the customer about each step of the return process and notify them of every update
Benefits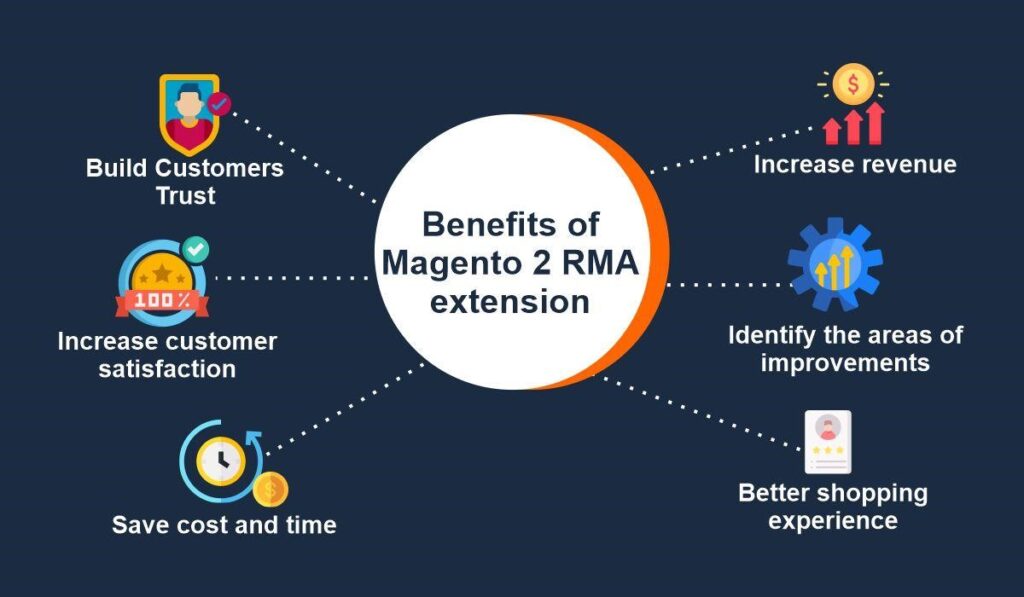 Allows admin to identify the areas of improvements
Make overall shopping experience better
Build Customers Trust in your brand and your products
Manage returns & exchanges easily on an online store
Helps store owner to offer after-sales support to all the customers
Increase customer satisfaction
Tool to collect customers' return requests and helps in building a long-lasting customer relationship.
The hassle-Free product return process
Save cost and time both for eCommerce stores for long term
Increase revenue and reduce return rates
Encourage customers to become a loyal and potential customer to your brand
This leads to positive reviews, referrals, and a great reputation
Key Features
Process the product return requests easily using Magento 2 RMA
The time-saving automated return process will eliminate the manual task
Customers allowed to place multiple return requests if required.
Admin can set various rules and conditions for the product return request and authorization
RMA Magento 2 extension also provides custom email templates for the return authorization emails.
Comment section for customers and admin to add comments on return requests.
Quick and easy RMA tool to increase customer loyalty.
Notify customers about all the updates via email.
Admin can configure properties like return reasons, resolutions, package conditions, delivery status, and RMA status, etc using the backend admin panel.
Final Words
In Return Merchandise Authorization (RMA) Extension for Magento 2 developed by MageAnts, users are allowed to raise a return request for the purchased products they not satisfied with. If customers feel that the product quality not up to the mark, the product is damaged or received incorrect size, etc., any of the issues then they can simply place the return request. So as a store owner it's your duty to provide your customers an easy and quick return process using Magento 2 RMA extension.
In case of any other Magento 2 related queries, you can directly contact MageAnts by writing us an email or contact us via our support chat. MageAnts highly experienced team will help you with all types of businesses from small to major corporations and provide all the Magento solutions including Magento 2 Extensions, Theme Development, Customisation, Magento 2 Migration, etc.
More Inside Techinfofdy.com
What is Pegasus spyware, and how does it hack phones?
How to buy Tron with Bitcoin: where to get it and what to look for